Ducted Evaporative Air Conditioning Perth
Sometimes, conventional air conditioning can feel a little artificial. Some families say they want more of a natural breeze indoors. Well, at Seasonmakers we have the solution – ducted evaporative cooling systems.

Conventional air conditioners stop fresh air from naturally flowing inside rooms. Recycling the air can even lead to dryness of skin, sore throats and skin allergies. Meanwhile, ducted evaporative cooling systems continuously draw in fresh air and cool the home without causing any allergies or dryness. Indoor plants will be kept refreshed and bad odors will be swept away. These models are also ideal to use with doors and windows left open, allowing ventilation throughout the day.

Compared to more expensive ducted refrigerated air conditioning systems, ducted evaporative air conditioning is cost effective and energy efficient. Perth residents looking for a fantastic, inexpensive air conditioning option can come straight to Seasonmakers for complete ducted evaporative cooling solutions.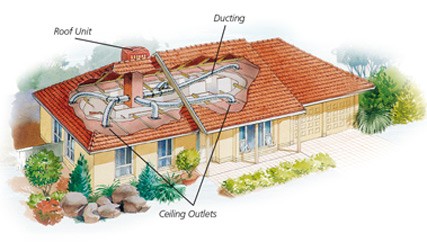 If you have ever wondered why it feels cooler when you are near a river or the ocean, you have actually been pondering the principles of evaporative air conditioning. Evaporative air conditioners work in the same way as nature, as hot air is blown across water, some of the water evaporates and absorbs heat, cooling the air. As the hot air enters the cooling unit of the system, it is filtered and cooled, passing through specially designed moist pads. The fan will then blow the cooled air through your home. Download a Brochure Today!
Why Choose an Evaporative Air Conditioning System?
There are a great many benefits associated with evaporative air conditioning, Perth residents can enjoy. The primary benefit is that this type of system tends to be more energy efficient compared to a refrigerated system. Download a Brochure Today!

An evaporative air conditioner can also provide completely fresh air and allow you to leave any doors and windows open. This tends to create a more natural allergen free environment while keeping the cost of staying cool more economical. Your home can enjoy full ventilation to ensure that any stale air or odors are not trapped inside the home. You will also find that your home will not feel dried out, preventing skin from feeling dried or indoor house plants becoming damaged. Download a Brochure Today!
Seasonmakers Preferred Brand:
At Seasonmakers our preferred brand for evaporative air conditioning is Breezair. These systems can offer an efficient way to cool your entire home. Our ducted evaporative air conditioners allow you to cool your entire home for the cost of "running a light globe". These systems feature innovative features including the quietest fans in the world with unique inverter technology, self cleaning systems, winter shutters to prevent drafts and the Tornado pump, which is the the most durable evaporative system water pump in the world. Download a Brochure Today!

Seasonmakers is also a Climate Master business. This means that we can offer you the longest duration warranty on the market, for up to seven years. So, if you are considering evaporative air conditioning, contact us. Our team would be delighted to discuss your specific requirements and assist you in determining the system best suited to your needs. Download a Brochure Today!